Solid values and morals serve as the foundation for the quality of life evident in this family-centered community.
Alberts Body & Paint
Dean Alberts
PO Box 129
150 Neff Street
Scribner, NE 68057
(402) 664-2596
Cell: (402) 380-2472
albertsbody@gpcom.net
Alberts Body and Paint Shop provides a variety of services to keep your automobile in mint condition. We offer the best in frame work, glass repair, glass replacement, tow truck services, collision repair, paint and detailing services.
Hours: Monday-Friday 8 a.m.-5:30 p.m.; Sat., 8 a.m.-noon.
 Beautiful U 
Scribner's newest business. Located on Main Street in the former Countryside Salon building, Alisa Gull is ready to make you feel beautiful. Taking appointments or walk in. Bring the kids and let them frolic in the play area while you relax and rejuvenate. Check out their facebook page.
Brad's Storage
Bright Beginnings Child Care
Aaron and Angie Lange
517 7th Street
Scribner, NE 68057
402-664-2221
leapsboundscec@yahoo.com
A Childcare Center where families feel welcome! "Believing that all children are unique and that is our responsibility to help them develop to their fullest potential"
Central Valley Ag
Cooperative owned by farmers
CEO Doug Derscheid
PO Box 350
301 Railroad Street
Scribner, NE 68057-0350
(402) 664-2256
Central Valley Ag specializes in Agronomy; dry and ammonia, Feed and Grain. Our focus is to find the best way to serve tomorrow's producers with quality products, services and facilities, utilizing our excellent employee group in the most efficient manner possible.
Country Corner Cafe 
Dinkel Implement
John and Larry Dinkel
151 Railroad Street East Hwy 275
Scribner, NE 68057
(402) 664-2556
(800) 627-4436
braddinkel@dinkels.net
Spring, Summer and Fall 7:30 a.m.-6 p.m. and Winter Hours 8:00 a.m.-5:00 p.m.
We're committed to helping you make the right choice in tractors and equipment. Count on us for help with finance and lease options, and trust us to be at your side, providing service and parts support second to none. If there is anything we can do for you, please contact us.
Dostal Plumbing, Heating, Air Conditioning
Ebel Transfer
Mark Ebel
121 S. 9th Ave
Scribner, NE 68057
(402) 664-2723
Eveland Supply Company
710 Co. Rd. 14
Scribner, NE 68057
(402) 664-3200
Eveland Supply can help you with all of your concrete needs. Concrete delivery since 1950. We also have decorative landscaping rock, limestone rock, road gravel and fill sand.
Residential * Commercial * Agricultural
Franciscan Care Services
Scribner Medical Clinic
429 Main Street
402-664-3414
Administrative office:
430 North Monitor
West Point, NE 68788
(402) 372-2404
jmeiergerd@fcswp.org
Our number one goal is to provide you and your family with the best medical care possible. We will always strive to meet your needs in a professional and courteous manner. If there is any way we can make our service to you better, please do not hesitate to let us know.
Gallant Law Offices
Kendal Minich, Attorney
William Minich, Attorney
500 Pearl Street-P.O. Box 509
Scribner, NE 68057
402-664-2597
gallantlawoffice.com
German Mutual Insurance
Loree Dahl
P.O. Box 245
409 Main Street
Scribner, NE 68057
402-664-2450
gerinsco@gpcom.net
Monday-Friday 7:30 a.m.-5 p.m.
German Mutual was established in 1883 to serve German farmers who came together to protect themselves from the peril of fire. The home office has always been in Scribner. Today, 124 years strong, company agents are able to fill the needs of Nebraska families. Property and casualty. liability, commercial, auto, multi-peril and hail coverage are all available by speaking to one of the German Mutual Agents.
Great Plains Communications Inc.
1600 Great Plains Centre
Blair, NE 68008
888-343-8014
contactus@gpcom.com
24 Hour Customer Support 7 Days a Week
Your local provider for Phone, Cable TV and High-Speed Internet Access. We also provide, network consulting, wiring and phone systems. For more information, please call Toll Free 1-888-343-8014.
Hoge Hardware
Leland Hoge, Owner
Scribner, NE 68057
402-664-3391
402-380-8697
Your one stop shop for hardware and a whole lot more–appliances, flooring, window coverings, Exmark lawn mowers, and small appliances. We service what we sell! Give us a call and see what we can do for you.
LG-SPEED QUEEN-CROSLEY-SAMSUNG-GE-FIGIDAIRE-WHIRLPOOL-MAYTAG
Hurt Abstracting Co.
Kenneth D. Hurt
Bonded Abstractor
PO Box 327
500 Pearl Street
Scribner, NE 68057
402-664-2597
J & G Trailers
Jensen Technology
Email: info@jensentechshop.com
Open Monday – Saturday: 8:00am to 6:00pm
Lee's Market
Lee and Jeff Burkink
521 Main Street
Scribner, NE 68057
402-664-3149
jbporkchop@hotmail.com
Hours: Monday-Saturday, 7:30 a.m.-7:00 p.m.; Sunday, 9:00 a.m.-3:00 p.m. OPEN EVERY HOLIDAY EXCEPT FOR CHRISTMAS.
Lee's Market is a family-owned business that is partnered with Affiliated Foods Midwest. Their motto is "We Buy Together to Sell for Less". We cater to our customers – if what you want isn't on the shelf, talk to us and we'll see that you get what you need.
Lohmeyer Plumbing, Heating and Air Conditioning, Inc.
Ken Thomas
PO Box 396
417 Main Street
Scribner, NE 68057
(402) 664-3177
(402) 664-2250
lohmeyerplumbing@gpcom.net
We offer complete plumbing, heating and air conditioning sales, service and repair. New construction and remodeling. If your home's efficiency is causing you concern, call us for information about new higher efficiency heating and cooling systems.
Mel's Bar and Lounge
Christine Sankey
401 Main Street
Scribner, Nebraska 68057
(402) 664-2778
Open Monday-Saturday at 8 a.m.; Sunday and Holidays 9 a.m.
Join your friendly locals for a cup of coffee and a roll, daily dinner specials along with soup and sandwich specials served from 11:30 a.m.-1 p.m. (take-out available), card parties, a drink made the way you like it and friendly conversation. Planning a special party? Mel's private party room can accommodate. Want to watch the football game with your buddies? Join your friends at Mel's to relax and unwind in our friendly, relaxed atmosphere. Wireless Internet Access available.
Napa Auto Center
Main Street
Scribner, NE 68057
(402) 664-3508
Precision Building & Remodeling
512 10th St
Scribner, NE 68057
(402) 525-6362
Rustler-Sentinel Newspaper
Chris Heitshusen – Managing Editor
Kathy Buhrman – Scribner Reporter
(402) 664-3918 or (402) 654-2218
rustlernews@gpcom.net425
Office hours: Monday-Tuesday 8 a.m.-12 noon; Wednesday-Thursday 9:30 a.m.-5 p.m.
Published each Wednesday. Deadline for all news and advertising is noon Monday
Schlecht Construction
Scribner Bank
Member FDIC
400 Main Street
Scribner, NE 68057
402-664-2561
office@scribnerbank.com
Monday through Friday 9 a.m.-3 p.m.
Drive thru hours: Monday-Friday 8:30 a.m.-4 :00 p.m., Saturday, 8 a.m.-12 noon. ATM available 24 hours a day seven days a week in the Scribner Bank South Lobby. Cash and Deposit Machine available at the Snyder Mini Mart (during Mini-Mart hours).
Scribner Economic Development Center
Kathy Lodl, Economic Development Coordinator
530 Main Street, PO Box D
Scribner, NE 68057
402-664-3101
econdev@scribner-ne.gov
Hours: Monday-Friday 8:00 a.m.-5:00 p.m.
Building capacity, energizing citizens and preserving unique character and quality of life.
II B Fitness
B Clean Car Wash
Scribner Express/Papa Rogey's
US Highway 275
Scribner, NE 68057
(402) 664-2728
Hours: Monday-Thursday, 7:00 A.M.-10:00 P.m.; Friday-Saturday, 7:00 A.M.-11:00 P.M.; Sunday 8:00 A.M.-10:00 P.M.
Scribner Express is conveniently located on Highway 275. On your way to or from work? Stop in and while you're fueling up choose a convenient meal from our deli or try a Godfather's Pizza. Call ahead and we'll have a fresh basket of chicken ready to carry out! Check us out on Facebook for daily deals!
Scribner Funeral Chapel
Ludvigsen Mortuary
Jon C. Ludvigsen
Larry D. Ludvigsen
509 Main Street
Scribner, NE 68057
402-664-2732
scribnerchapel@msn.com
Scribner Garage Doors 
Scribner Grain
Dennis and Mike Baumert
203 Railroad Street
Scribner, NE 68057
(402) 664-2501
(402) 380-0151
Fax: (402) 664-3699
sgl@gpcom.net
Hours: Monday-Friday, 7:00 a.m.-6:00 p.m. Saturday, 7:00 a.m. to 12 Noon
Scribner Grain is a family-owned business that offers a wide range of services to meet your farming needs. Services include: storage capacity for three million bushels of grain; a complete feed mill operation including pelleting; full service fertilizer -liquid, dry and anhydrous; custom spraying and livestock hauling.
Scribner Insurance Agency
Lonny Niewohner – Manager
Jeannette Niewohner – Office Manager
408 Main Street
Scribner, NE 68057
(402) 664-3454
(800) 282-2957
lonnyn@scribnerins.com
Open Monday through Friday 8:00 a.m.-5:00 p.m.
We are always available to offer you personal, one-on-one help with what some say are a few of the biggest decisions you will make in your life. If you have any questions about insurance of any kind, including life & health insurance, please don't hesitate to call or e-mail us!
Scribner Library
504 Main Street
Scribner, NE 68057
(402) 664-3540
Scribner Drugstore
Matt and Tilara Kruse
Tilara Kruse, Pharmacist
PO Box 439
416 Main Street
Scribner, NE 68057
(402) 664-3133
Hours: Monday-Friday 9:00 a.m.-5:00 p.m., Saturday 8:30 a.m.-noon. Pharmacist lunch 12:30-1:30 p.m.
Scribner Pharmacy is a full-service pharmacy. If you're looking for something for a special occasion our Russell Stover candy, gifts and Ambassador Cards will help make your occasion memorable.
Scribner Storage Sheds
Don Dostal
Scribner, NE 68057
402-664-3513
402-720-9632
Available in Scribner, Snyder and Hooper
B & L Tires and Service
709 Industrial Rd
Scribner, NE 68057
(402) 664-3600
Sense Natural Products
Stumpe Machine and Repair
116 Neff St
Scribner, NE 68057
402-664-3233
Swanson Insurance/Real Estate Inc.
Steve Swanson
505 Main Street
Scribner, NE 68057
(402) 664-3500
(800) 664-3501
swinsre@gpcom.net
Hours: Monday-Friday, 8:00 a.m.-4:30 p.m.; Saturday, 8:00 a.m.-11:00 a.m. and by appointment
When you want to know about real estate and insurance, we're the place to go. Since 1949, families have trusted us with their homes, autos and businesses. Whether it is buying or selling real estate or your insurance needs, we have the expertise to make it easy.
Thrivent Financial
Beth Boyle, Financial Associate
437 Main Street
Scribner, NE 68057
(402) 664-2347
(800) 721-1762
Cell: (402) 720-5118
Beth.Boyle@Thrivent.com
White's Service
200 Baker St
Scribner, NE 68057
402-664-3469
Z's Bar and Grill
Ryan Zahourek
436 Main Street
Scribner, NE 68057
(402) 664-3436
Open for Lunch Monday-Friday, 11:00 a.m.-1:30 p.m. Evening Hours: Sunday-Saturday, 4:30-10:00 p.m. Closed Tuesdays.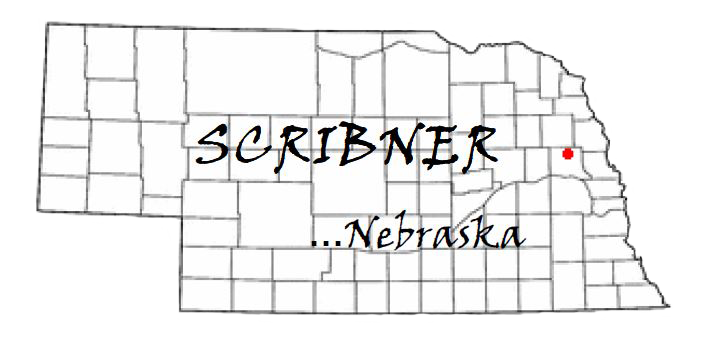 Contact
Address:
City of Scribner, Nebraska
530 Main Street,
Scribner, NE 68057
Phone:
402-664-3231
Email:
econdev@scribner-ne.gov