Solid values and morals serve as the foundation for the quality of life evident in this family-centered community.
City Boards
Scribner Planning Commission
Meets Tuesday before City Council meeting.
President Paul Stockamp
Building Inspector Tom Henry
Secretary 
Steve Swanson
Chris Meyer
Mark Meyerink
Ralph Wagner
Kevin Morrison
Scribner Board of Health (4 years)
Medical Representative Dr. Brian Haas
Mayor Ken Thomas
Police Chief Jake Brainard
President of Council Mike Baumert
Cemetery Board
Meets second Monday of each month.
In new part plots are 4×10; In old part family plots are 16×16
Chairman Jim Ebel
Secretary/Treasurer Loree Dahl
Steve Swanson
Ron Krueger
Shelly Stockamp
Museum Board
Chairman Nona Wiese
Betsy Langemeier
Clark Boschult
Linda Schafer
Tom Zahourek
Scribner Library Board
Meets first Tuesday at 4:15 P.M..
Lindsey Stumpe
Janis Baker

Michelle Ryun

Laura Sweet

Steph Rangeloff
City Tree Board (5 Members 3 year Terms)
Chairman Jordan Young
Joyce Tienken
Sally Thomas
Don Westerman
Tom Henry
Citizen Advisory Review Committee (LB840)
Chairman Steve Swanson
Secretary Tom Zahourek
Jim Ebel
Karleen Meyer
Nona Wiese
Sports Complex Board
Meets annually in December.
Chairman Beth Boyle
Treasurer Tim Wobken
Other Members
Susan Schlecht
Stacie Roberts
Furstenau Family Trust Project Committee
Ken Thomas
Jack Cordes
Jake Brainard
Chris Meyer
Angie Brainard
Jeanette Groppe
Brad Schlecht
George Soukup
Ed Howard
Scribner Fire Station Committee
Ken Thomas
Joe Roberts
Lonny Niewohner
Kerry Boyle
Dale Miller
Chris Meyer
Matt Giesselmann
Kent Giesselman
Russel Poppe
Civil Defense
Director: Leland Hoge
Assistant Chris Beerbohm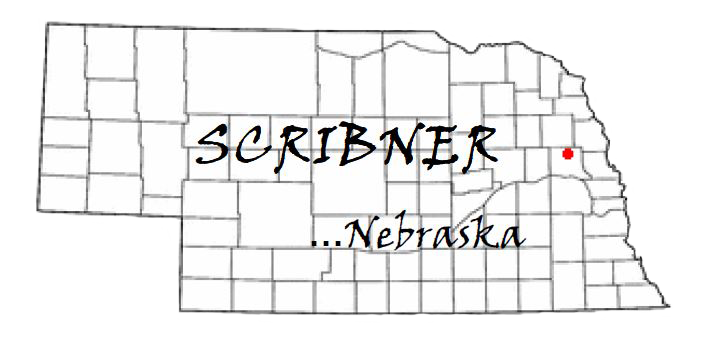 Contact
Address:
City of Scribner, Nebraska
530 Main Street,
Scribner, NE 68057
Phone:
402-664-3231
Email:
econdev@scribner-ne.gov